Prevent DNS hijacking, network data breaches and exposure to ransomware.
DNS inherently lacks security, and the design of DNSSEC was to protect networks from attacks such as DNS cache poisoning. Domain Name System Security Extensions (DNSSEC) is an essential specification for securing traditional DNS, providing data integrity, and origin authentication of DNS data. At TCPWave, we understand the criticality of securing DNS and offer our customers the option to deploy DNSSEC, which adds an additional layer of security to their networks. In the past few decades, DNS has remained unchanged in its implementation despite its vulnerabilities, posing a severe threat to any organization that relies heavily on it. DNSSEC was designed as an improvement over DNS, protecting networks from pervasive threats such as DNS cache poisoning, DNS redirection, malware, and man-in-the-middle attacks. DNSSEC provides data integrity and origin authentication of DNS data through public-key encryption and validation of data using a digital signature.
Enhanced security posture
We provide a comprehensive DNSSEC solution that protects against cyber threats such as cache poisoning, hijacking, and MITM attacks, ensuring DNS security for organizations.
Improved brand reputation
Our DNSSEC deployment safeguards organizations' brand image and gains customer trust by preventing them from falling prey to fake or harmful websites, securing their online activities.
Compliance with regulatory requirements
Our DNSSEC solution ensures compliance with industry regulations such as FISMA and HIPAA by offering a reliable and secure DNS infrastructure, making DNSSEC mandatory.
Business expansion
Our DNSSEC implementation provides a secure platform for innovative services like online banking that can lure and maintain customers, with effortless implementation and improved security and business prospects.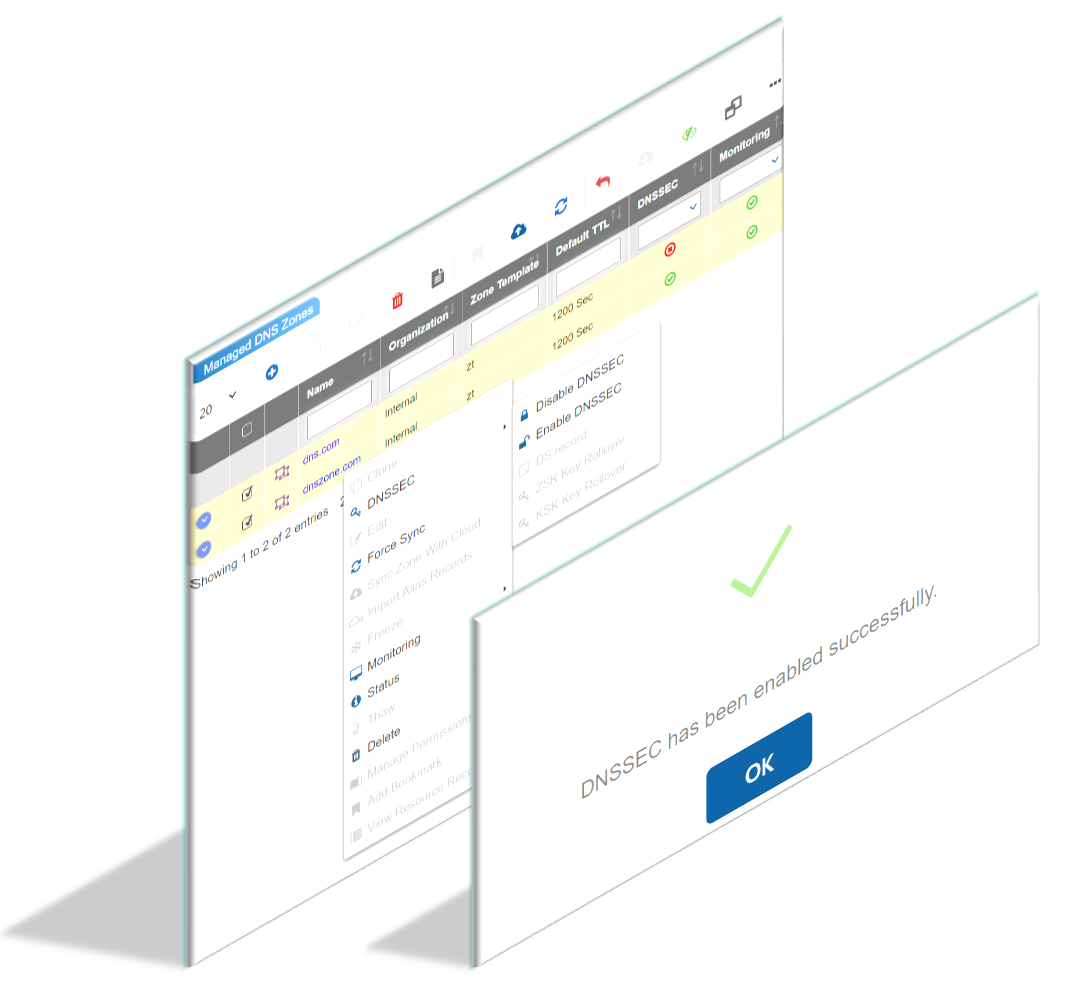 Streamlined DNSSEC Implementation: Enhancing Internet Infrastructure Security with Ease
Implementing DNSSEC, an essential aspect of internet infrastructure security, is made effortless with our out-of-the-box solution. Our DNSSEC solution eliminates the need for manual configuration, automatically handling key rollovers seamlessly. By maintaining properly configured DNSSEC-signed zones, we bolster security by thwarting man-in-the-middle attacks. Our DNSSEC-enabled appliances ensure protection against DNS spoofing, enabling uninterrupted access to domain names. While implementing DNSSEC can be complex, our extensive expertise in network design and adherence to industry best practices simplify the process. Deploying our DNSSEC-enabled appliances safeguards your organization's brand and enhances consumer trust, allowing for the introduction of secure and innovative services that attract customers.
DNSSEC: Strengthening DNS Security through Digital Signatures and Authentication
Our DNSSEC is a powerful solution that secures the Domain Name System (DNS) by providing data integrity and origin authentication of DNS data. Our DNSSEC works by leveraging public-key cryptography to digitally sign DNS data, ensuring that DNS responses are authenticated and unaltered during transmission. To achieve this, our DNSSEC uses a hierarchical trust model based on public-key infrastructure (PKI). It involves a chain of trust where top-level DNS servers, called root servers, hold a digital certificate that is signed by a trusted certificate authority (CA). Lower-level DNS servers obtain their own digital certificates, which are also signed by trusted CAs and are used to sign the DNS data they serve. When a DNS query is made, the response is validated by verifying the digital signatures of the DNS data from the root to the authoritative DNS server. If the validation succeeds, the response is deemed authentic and is returned to the end user.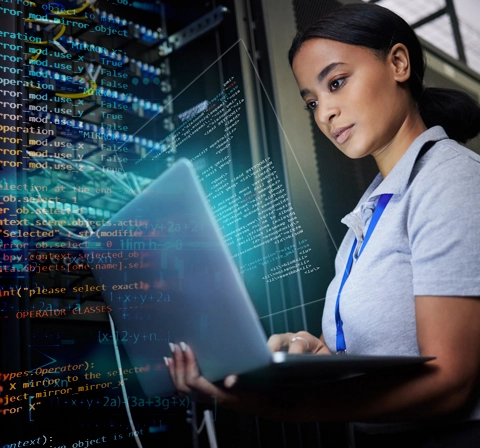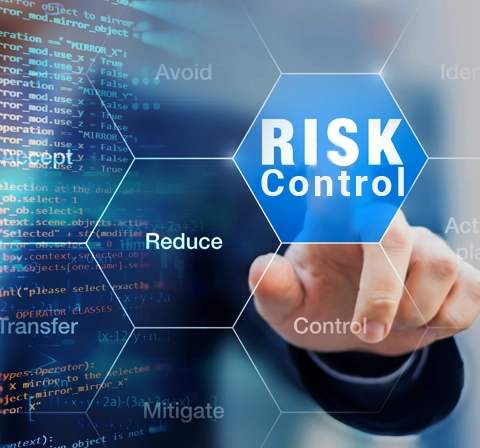 Automated Key Management: Effortless Key Rollovers and Error Reduction
Simplifying the deployment and management of DNSSEC is a top priority with our DNSSEC solution. We offer automated key management, eliminating the need for manual intervention and reducing the risk of errors during key rollovers. Administrators gain comprehensive visibility and control over DNSSEC-signed zones, allowing real-time monitoring of security status and swift troubleshooting of any potential issues. Our DNSSEC solution safeguards DNS data against various cyber threats, such as DNS cache poisoning, DNS hijacking, and man-in-the-middle attacks, bolstering network security. Additionally, our DNSViz tool is an invaluable asset for businesses reliant on DNS for online services. It swiftly identifies configuration errors, empowering businesses to rectify issues promptly and optimize their DNS infrastructure with ease.
In conclusion, by joining the global chain of trust, our DNSSEC-enabled appliances can help you explore new and exciting possibilities in your business. Contact us today to learn more about our DNSSEC solution and how it can help you secure your network against pervasive cyber threats.