TCPWave DNS Appliance Configuration
The TCPWave DNS appliance can is available as a physical appliance as well as a virtual appliance. On both flavors, an authoritative DNS appliance can also be configured as a recursive cache. Further, the recursive queries can be forwarded to Cisco Umbrella, thereby leveraging all the business advantages that are available from this offering.
Forwarding the Queries to Cisco Virtual Appliances
Forwarding recursive queries from an on-prem TCPWave recursive DNS cache to Cisco Umbrella can provide organizations with valuable reporting and insights into their DNS infrastructure. By forwarding these queries, organizations can gain visibility into the various queries and responses that occur during the resolution process. This visibility can help identify potential DNS performance issues, network bottlenecks, or security threats. Moreover, Cisco Umbrella's threat intelligence database can help identify and block malicious domains that recursive queries may encounter. Overall, forwarding recursive queries to Cisco Umbrella enables organizations to gain a deeper understanding of their DNS traffic, improve performance, and enhance security posture.
Enable Recursion in TCPWave
Recursion on a TCPWave DNS cache is critical to providing efficient and fast DNS resolution for clients. By caching frequently requested data locally, recursion helps reduce DNS query latency, which can improve the overall performance of the network. Moreover, recursive DNS queries can be forwarded to external DNS servers, such as Cisco Umbrella, to obtain additional information and enhance security by blocking malicious domains. Overall, recursion on a TCPWave DNS cache enables organizations to provide fast, efficient, and secure DNS resolution for their clients.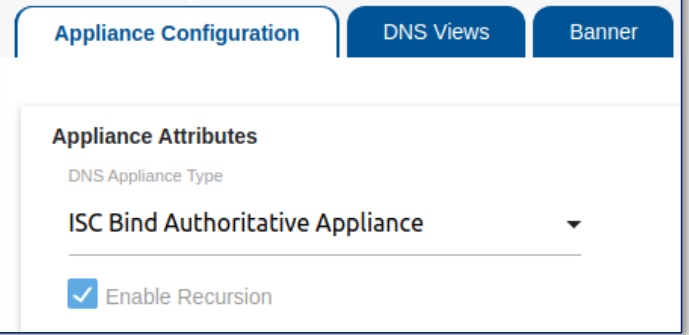 DNS Forwarding
In the TCPWave application, under the DNS option templates, select Only under Forward field, and enter the Forwarders. DNS forwarding is the process of directing DNS queries from one DNS server to another, typically to resolve domain names more efficiently. This method improves resolution speed and reduces local DNS server load by utilizing the resources of external DNS servers.

Configure Virtual Appliances
The virtual appliances are configured on the Cisco Umbrella under "Sites and Active Directory".

Network Deployment
Having the public IP addresses configured on every site in Cisco Umbrella aids in delivering location-specific responses to clients and implementing policies for each location.

Domain Management
The internal zones that are set up on the TCPWave appliances are configured through the "Domain Management" feature, which will then be transmitted to the virtual appliances.

Reports
The image below illustrates the Cisco Umbrella reports that depict both internal and external IP addresses when DNS queries are directed towards the virtual appliances.